With a total area of 20 Hectares, the Harbour Bay is one of the company's masterpiece. It was originally planned and built as an international shopping area and to facilitate the leisure experience in Batam.
At the Harbour Bay, stands the Bayerina Apartment, Harbour Bay Mall, International Ferry Terminal, Swiss-bel Hotels & Conventions, Seafood Restaurants and Shopping Mall. In the near future, the area will boost a community of it own office buildings, residential apartments, budget hotels to 5 star hotel and entertainment centre.
As envisaged by the master-planners, Harbour Bay would be a project ahead of its time, where living, entertainment and business would seamlessly converge in a vibrant and sustainable city of international standing.
With an area that encapsulates 20 hectares of prime land, set in Batu Ampar, 50% are office buildings and shop houses, 25% are hotels, and the rest to accommodate commercial and entertainment facilities. This multi-functional design will drive the bustling Business District into full of drive, with an infrastructure to match. There's a whole new vision taking shape where the city meets the water. Redefining what Batam's waterfront living can be, and working to create a world model of urban spaces.
The first of its kind, Citra Buana Prakarsa allocated IDR6.83 billion*** to encompass a vast development to a promising central business district with a very strategic location positioned at the busiest shipping lane in Southeast Asia. Set to transform the socio-economic landscape of the economic zone of Nagoya, the northern city edge of Batam. Its strategic location with its accessibility to leading Asian cities, especially its proximity to some of the world's most rapidly growing and important economies. Harbour Bay is poised to attract an exciting influx of foreign and high-level corporate investments as discerning investors look to benefit from its many advantages and high growth potential.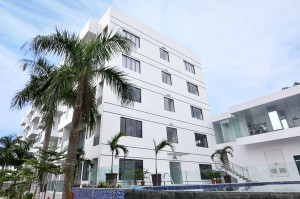 A great deal of careful planning has also gone into ensuring that the development would be sustainable, taking into consideration the direct and indirect needs of its respective stake-holders. To date, 100 units of the office buildings and shop houses are sold. Harbour Bay Amir Hotel, A three star hotel, vested by the prestigious Menteng Group Hotel, (one of biggest company that operating several hotels in Indonesia), opened to business early in 2012.
The CBP Master Plan for Harbour Bay aims to encourage a mix of uses for this area, including commercial, residential, hotel and entertainment, to ensure that the area remains vibrant round the clock.